BSH Home Appliances Expands Dishwasher Recall For Jenn-Air, Bosch, Thermador & Gaggenau
BSH Home Appliances Expands Dishwasher Recall For Jenn-Air, Bosch, Thermador & Gaggenau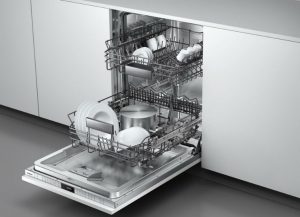 IMPORTANT SAFETY BULLETIN FROM BSH HOME APPLIANCES
Recalled dishwashers pose safety risk to homeowners
Repairs Required For Recalled Jenn-Air, Bosch, Thermador and Gaggenau Dishwasher Units
BSH Home Appliances has expanded an October 2015 recall of dishwashers due to fire hazard. Affected dishwashers feature faulty power cords, which are prone to overheating and potentially resulting in fires.
The expanded recall impacts a number of dishwashers from premium brands including Jenn-Air, Bosch, Thermador and Gaggenau. According to the Consumer Product Safety Commission (CPSC), the updated recall covers roughly 408,000 dishwashers, in addition to the 149,000 units that were previously recalled.
These dishwashers were sold by retailers and distributors nationwide both in stores and online from January 2013 through May 2015.
BSH Home appliances has stated that no injuries have been reported due to the faulty power cords, though there have been five reported instances of cords overheating, causing property damage and fires.
How To Repair Your Recalled Dishwasher
The recalled dishwashers pose a severe safety risk to homeowners and should be dealt with quickly and effectively.
If you have a dishwasher, from one of the affected brands, that was purchased between January 2013 and May 2015, you should first check the serial and model numbers of your unit to see if it has been recalled. You can find a comprehensive list of these numbers for affected units on the CPSC's official website. These numbers are printed inside the dishwasher, either on the side or the top of its inner door panel.
If you have a recalled dishwasher, you should immediately stop using the appliance and contact a professional for assistance in replacing the power cord. BSH Home Appliances is offering free inspections and repair for all recalled dishwashers, as is Universal Appliance Repair which you may contact directly for a free inspection and power cord replacement, which will be fully covered by the manufacturer under the recall.
You can reach BSH Home Appliances toll-free at 888-965-5813 from 8am to 8pm ET any day of the week, or contact the company online through the brand websites listed below:
You may also reach out to Universal Appliance Repair at tel:800-387-2011. If you need help in determining if your dishwasher is actually subject to the recall, and if it is, to immediately schedule service to rectify the problem.